THE BIOTHERAPEUTICS CONSULTANCY
WORKING WITH PARTNERS TO DISCOVER AND DEVELOP THERAPEUTIC ANTIBODIES, PEPTIDES AND OTHER BIOLOGICS
CREDOS are a specialist life science consultancy, dedicated to the discovery and development of biological therapies, including antibodies and proteins.
Through our network of experts, we provide technical and strategic guidance covering all aspects of the biopharmaceutical process from project initiation, early discovery through to regulatory filing.

Expertise Across Drug Discovery Spectrum
New to Biotherapeutics?
Project roadblocks?
Resource constraints?

Flexible independent experts
Consultancy on an hourly or daily basis for short & long term project needs

Gather your team
We create the virtual teams of experts to support and lead the more complex and challenging projects
VIEW OUR EXPERTS BY SECTOR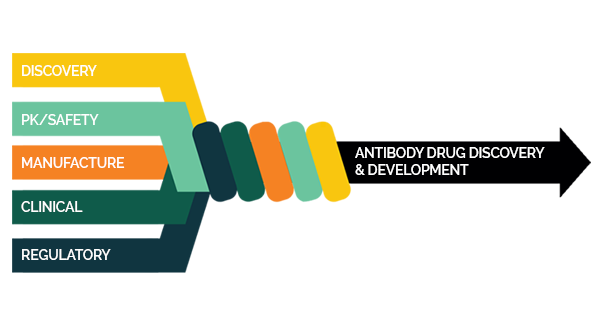 CREDOS Antibody Management & Discovery Services (CAMDS)
A bespoke full service offering to lead and manage antibody discovery and early development projects for, and on behalf, of clients using our out-sourced service provider partners.
The discovery and development of biological therapeutics is a specialist activity requiring specific expertise and experience.
Our Consultants are leading experts in their respective disciplines, bringing at least 15 years' hands-on experience of biotherapeutic drug discovery and development.
With significant blue-chip pharma and biotech experience, they have played pivotal roles in the success of many leading biologics on the market and in late-stage clinical studies.
Through careful due diligence of our Consultants, CREDOS manages the risk of outsourcing for clients.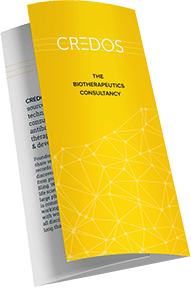 DOWNLOAD OUR FREE BROCHURE
About CREDOS Consulting Services
CASE STUDY 1
Medium-sized Established UK Biotech (Discovery strategy development)
CASE STUDY 2
UK University Spin-out (Antibody discovery and development strategy; Operational Plan Development)
CASE STUDY 3
Opportunity Due Diligence for Leading European Investment Group
CASE STUDY 4
Early Development Team Formation for Asian Pharma Company
CASE STUDY 5
Chemistry, Manufacturing, and Controls Expert Input
CASE STUDY 6
Out-sourced Antibody Drug Discovery for UK healthcare company

CREDOS ARE KEY TO OUR SUCCESS IN DISCOVERING NOVEL BIOTHERAPEUTICS. AS A LEAN VIRTUAL BIOTECH, THEY ALLOW US TO ACCESS TOP QUALITY SCIENTIFIC EXPERTISE WHEN, AND FOR ONLY AS LONG AS WE NEED IT, ENABLING US TO EFFICIENTLY MANAGE OUR COSTS.
Virtual Biotech CEO, Oxford, UK

Get in touch to find out more

Call, email or fill in our enquiry form if you need access to world-class experts to bridge specific skill gaps or solve technical, discovery or development problems on a flexible, project-by-project basis, either as individuals or by coming together as a team.
CREDOS
Brushwood
2 Dukes Road
Lindfield
West Sussex RH16 2JH